You are here
Kansas City - Western Division
Mailing Address:
Charles Evans Whittaker U.S. Courthouse
400 E. 9th Street
Kansas City, MO 64106
District Court: 816-512-5000
Bankruptcy Court: 816-512-1800
Photo identification is required to enter the Courthouse.
Members of the general public are not permitted to bring phones or cameras into the Courthouse.
Building Hours:
The courthouse is open from 7:00 am to 6:00 pm, Monday through Friday, excluding holidays.
Metered parking is available near the courthouse. Parking Map
The Charles Evans Whittaker Courthouse is fully accessible for persons with handicaps. Ramp access is located at the southeast corner of the courthouse at 9th and Locust. Handicap parking spots are available in the courthouse parking lot located between Oak and McGee and 8th and 9th Streets just west of the courthouse. Persons needing assistance to enter the courthouse may call the U.S. Marshal's Office at 816-512-2038 for assistance. A wheel chair will be available for use in the courthouse.
Hearing Information
Western Division Hearings are typically held at the courthouse
Please refer to your Notice of Hearing for the exact location and room number.
To reserve a courtroom in Kansas City, email Johnathon Bish or call 816-512-5010.
View the Courthouse Use Policy
Request for Use of Courthouse Facilities
Map and Directions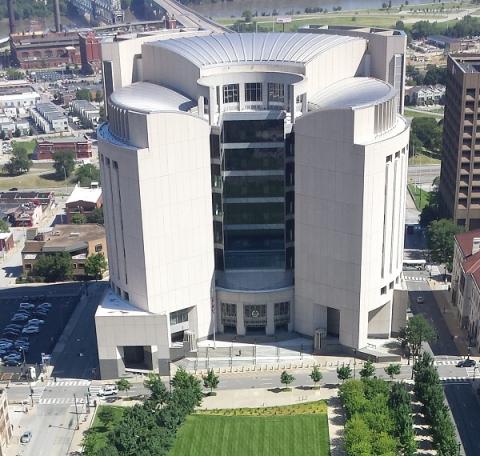 | Contact | Phone | Room | Office Hours |
| --- | --- | --- | --- |
| U.S. District Court | 816-512-5000 | 1510 | 10:00 am - 4:00 pm |
| U.S. Bankruptcy Court | 816-512-1800 | 1510 | 10:00 am - 4:00 pm |
| U.S. Probation & Pretrial Services Office | 816-512-1300 or 888-609-7664 | 4510 | 8:15 am - 5:00 pm |